Customized Training
Workforce Training partners with clients to design and deliver a wide range of customized, on-site or virtual learning solutions, including management and employee training, leadership development and skills upgrade training.
Strategic Planning and Needs Assessment
Workforce Training provides consulting services to support organizational growth by working with clients to increase efficiency in the workplace and maximize return on investment. Our expert partners can work with you to address all of your development needs.
Facility Rentals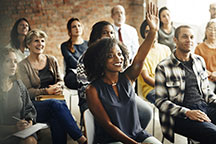 If your organization is looking for a centrally-located space for a planning retreat or offsite training program, we offer several state-of-the-art training rooms and a fully connected conference room for rent in our Pleasanton location.